Terminalia chebula
Combretaceae
It occurs throughout India in deciduous forests on dry slopes up to 900 m especially in Bengal, Tamilnadu, West Coast and Western Ghats. 11 15 propagated by seeds.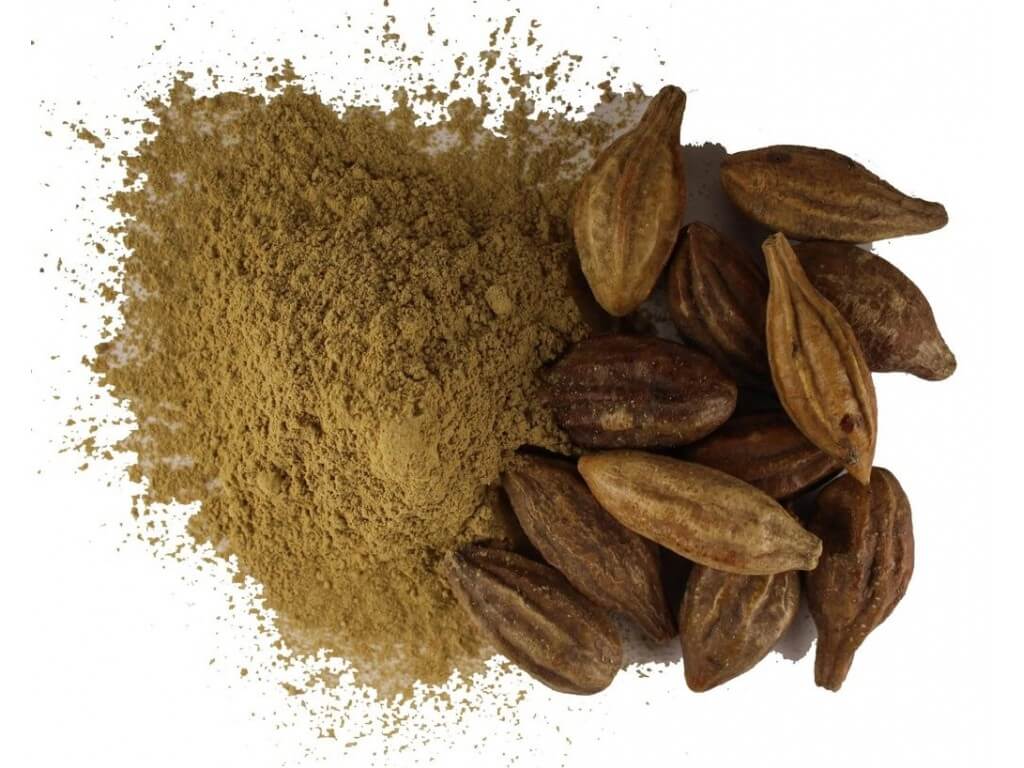 A moderate-sized, deciduous tree. Leaves simple, ovate, elliptic or obovate, glabrous to tawny-villous beneath with a pair of large glands at the top of the petiole, flowers yellowish-white.in terminal simple spikes, fruits glabrous, shining ellipsoidal, obovoid or ovoid drupes, yellow to orange brown in colour, faintly angled, upto 3 75 cm long: seeds hard, pale yellow Flowering-fruiting March to December.
Fruit contains tannic acid 20-40%. gall, acid, resin, anthraguinone derivative. Chebulin. chebulinic acid, chebulic acid, etc. Seeds contain oil.
Mature and immature fruits
Fruits – are astringent, sweet, acrid, bitter, sour, thermogenic, diuretic, anodyne, anti-inflammatory, vulnerary, alternate, stomachic, lexative. carminative, digestive, anthelmintic, carcliotonic. aphrodisiac, antiseptic, febrifuge, depurative and tonic.
Fruits -are useful in vitiated conditions of tridosha. gout, rheumatism, wounds, ulcers. sore throat. constipation, gas. piles, anaerrtla flatulence, elephantiasis, indigestion, hydrocele, fevers, inflammations. gastropathy. splenopathy, pharyngodynia. hiccough, cough. uropathy, vesical and renal calculi, cephalalgia, epilepsy. ophthalmopathy, skin diseases, leprosy. intermittent Fever cardiac disorders, stomatitis, neuropathy, general debility. anorexia, worms, leucorrhoea. tymphanites, flatulence, asthma, etc.